About Amamioshima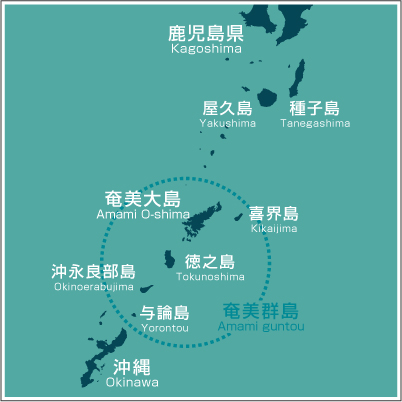 Amami Archipelago is a general term referring to 8 large and small inhabited islands (Mainland of Amamioshima, Kikaijima, Tokunoshima, Okinoerabujima, Yoronto and three other islands). The total area is 1,231 square kilometers.
The northern area of Amamioshima boasts beautiful coastlines and gently-sloping topography. It is not mountainous. On the other hand, most of the southern area is covered with mountains.
Amamioshima belongs to the subtropical oceanic climate zone. The climate is mild throughout four seasons with high precipitation. And beautiful coral reefs spread out in the in rich oceans where the black current also flows.
The deep inland area is inhabited with rare flora and fauna including the Amami rabbit Pentalags fumessi and Lidth's Jay Garrulus lidthi endemic to Amami. Abundant nature exists close at hand on Amami.
It is quite important to conserve these precious natural assets and pass them on to future generations.
Other precious treasures of Amamioshima are traditional artifacts such as Amamioshima Tsumugi silk pongee and Kokuto Shochu, distilled local spirits made from brown sugar. There is a traditional performing art represented by Shimauta, or island music, and Hachigatsu-odori dance, both of which have always been actively fostered and are closely related to the local nature and culture. They have long been regarded as an integral part of the islanders' life.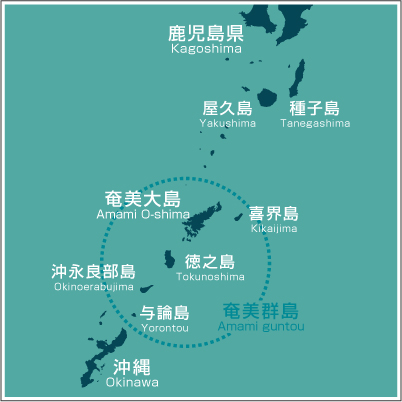 The reason why Amamioshima was chosen as a candidate for the World Natural Heritage Site
Both Amami and Ryukyu have habitats for precious endemic species and other endangered species considered important on a world-wide scale. This is why these locations have been chosen as a candidate for World Natural Heritage Site.
Features of Amami and Ryukyu
The warm climate throughout the year and abundant rainfall
The repeated connection with and separation from the continent in the past
The subtropical forests are rare in the world
The location near the boundaries of the biogeographical region
Biodiversity

Habitat for endemic and endangered flora and fauna
Valuable

The valuable ecological systems and biodiversity of these islands are known worldwide.
Candidate site for World Natural Heritage designation

Current status